Peperami Slot
"What's the matter? Too spicy for yah!"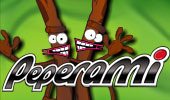 In 2007, the comedic tone of Adrian Edmondson was heard screaming that sentence through our TV sets every time we had a commercial break in between TV shows. Ever since Edmondson played the part of Vivian in the cult classic The Young Ones, his voice has been sought after in the world of television and radio making him the perfect fit for the creation known only as The Animal.

The Animal was a stroke of advertising genius from the German company Unilever. Unilever produced a pork sausage snack known as Peperami and it was in 2007 that The Animal was born. The Animal is a cartoon form of the Peperami food and armed with the Edmondson voice, he became an instant hit. In the weeks and months that followed The Animal was transferred from the small screen to the video game screen and now finally the slot machine screen.

The game starts with The Animal screaming at you from the centre of the screen and the slogan "IT IS A BIT OF AN ANIMAL" stamped on it not long after. As you play the game The Animal stands on the far right and every now and then he screams, "I can't resist," before biting his own arm off!
The game itself is a five-reel slot machine with The Animal painted on the reels in different guises. Each time you spin and win, The Animal standing on the side of the screen, does something interesting and just watching him causing havoc is worth the money alone.
Play Peperami Slot at the following online casinos: