3 Reel Slots | Slots Types


3 Reel Slots

The first machines that ever existed in the 19th century can be known as 3 reel slot machines. The 3 reel slot machine has 3 reels but the number of paylines vary according to the slot played, ranging from 1 and 5 paylines. In the early days three reel slots were known as 'One-Armed Bandits', as a lever was used to operate them, giving them the resemblance to a bandit with one arm.

More about 3 Reel Slot Machines

Over the years three reel slots have gone through many changes although the concept still remains the same. For example the first 3 reel slots games contained the 4 suit symbols of a deck of cards and over time changed to fruit symbols that we know and recognize today.


Nowadays they come in all coin sizes, from 1c to $5, with many different varieties like the Microgaming Megaspin slots which are multiple games in one. You are able to play 3, 6 or 9 games all in one spin. The classic slots still however offer good value with the top jackpots of
15,000 coins in some cases.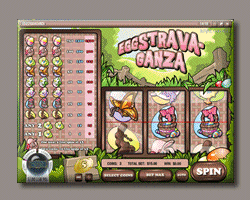 Classic 3 reel slots:
Disclaimer
Last Updated 27 August 2014
Slots 711 | 3 Reel Slots